HATZIIOAKIIDIS is a leading company in slaughterhouse equipment, offering turnkey projects and solutions to customers in the slaughterhouse and food-processing industries.
HATZIOAKIMIDIS LTD traces its origin back to 1983 when Grigorios Hatziioakimidis started producing innovating slaughtering machinery and techniques while respecting animal welfare.
His vision and passion still drive the company today, making it one of the top slaughterhouse construction companies in Greece and abroad, including the Balkans, Europe, Asia, and Africa.
In 2012, the family business was passed down to the 2nd generation in order to take abattoir design and construction to the next level.
Today, our core values include innovation, sustainability, less waste and improved yield, while we remain family-oriented, creating strong bonds with customers in every project.
At HATZIIOAKIMIDIS, we design & produce high-efficiency slaughterhouses for animals, including cattle, pig, sheep & goat abattoir equipment, always keeping sustainability in mind: we build modern slaughterhouses across the globe, offer localized solutions like Halal and Kosher certifications, and respect the high-quality end-product that these standards can offer.
Location & Facilities
The company is located in Nea Pella, Giannitsa, Greece – a strategic position that connects Asia, Africa, and Europe, covering an area of 6,000 square meters in total.
The production area is equipped with cutting-edge technology & machinery and well-trained personnel that specializes in sheep, goat, cattle, and pig abattoir equipment.
In our production area, our engineers produce a slaughterhouse from A to Z: we control quality along the way, from raw materials to end products.
Administration and production are located in the same area, making our facilities ideal for a visit.
We are available for in-person meetings in order to discuss your project in detail and show you where everything is designed and produced.
What Sets us Apart
Our deep knowledge of the meat industry and our passion for excellence are the driving forces behind every project we undertake.
As leading abattoir equipment manufacturers, we have the know-how and expertise to turn every project into a success story, by offering:
Extensive knowledge not only in engineering, but in meat products as well
Deep understanding of the slaughterhouse and meat industry HR that allows us to design innovating machinery according to customers' needs
Case studies for each customer in order to design and develop a project according to your individual preferences
A dedicated R&D department focused in developing new ways to transform the way meat is produced
Direct and fast technical support on-site or/and remotely, by using state-of-the-art technology like Augmented reality or remote supervision software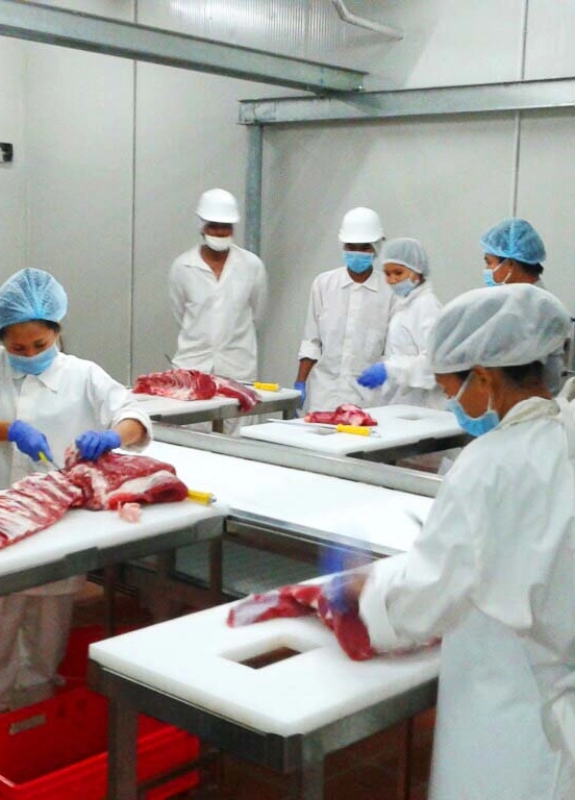 Our Values
It's not only what you create, but how you create it. Having built hundreds of abattoirs in Greece, Israel, India, Cambodia, and all over the world, we make sure to respect the needs of customers.
We design and construct slaughterhouses that can receive a Halal certification or a Kosher certification, guaranteeing that we care deeply for our customers and their success. While doing so, we stay true to our core values:
Innovation
Innovation is embedded in our company culture – it drives us, forcing us to come up with new ideas to transform meat industries and bring them to the new era.
Sustainability
At HATZIIOAKIMIDIS, we are focused in new-generation slaughterhouses with less to zero waste, using smarter and more efficient technologies to achieve top results.
Animal Welfare
Animal welfare is one of our most important values. We respect, design and act according to animal welfare standards and legislation in every country we operate.
Linking customer success to the environment
We firmly believe that by building a sustainable project we achieve two goals: we help our customers succeed while saving the Earth's precious resources.
Our People
When looking for perfection, we think of people, collaboration, and teamwork.
This is why we believe every idea is important, every action counts, every person is a precious resource on our way to customer success.
Our team of specialists consists of highly educated and trained people that share the same vision: to offer high-tech and innovating products and processes to our customers with respect to animal welfare.
Grigoris Hatziioakimidis
President & Manager Director
grigoris@hatziioakimidis.gr
Konstantinos Tsichlakidis
General Manager
Nikos Kastrinidis
Production Manager
Dimitra Hatziioakimidis
Mechanical Engineer –Technical Manager
Makrina Hatziioakimidis
Sales Manager
Athanasia Hatziioakimidis
Account Manager
accounts@hatziioakimidis.gr
Certifications
Quality of products, processes and customer service is a top priority for HATZIIOAKIMIDIS. To control and manage the overall quality of our products and services, our company follows, respects, and complies with the world's most important certificates like ISO, CE and more.